Crossing The Bar - Kim Ebert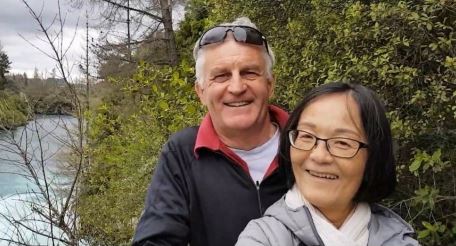 From ZOA Secretary Brian Peet in West Wind 64.3
Below is a 'Crossing the Bar' for Kim Ebert, who sadly lost her battle with cancer in early September 2021.
Kim was married to Rob, our former Secretary and honorary life member. Kim was very supportive of Rob's dedication to all things Zephyr, so by extension our class benefited from Kim's support of Rob during his time as Secretary.
We offer our collective condolences to Rob, Julia and Christopher.
(Image: Rob and Kim Ebert)
A message from Rob Ebert:

As many ZOA members know, my wife Kim passed away recently, ending her long journey with breast cancer that many of my sailing colleagues were aware of. I want to acknowledge and thank all those ZOA members who sent messages and offered support to me and my family. Kim supported my Zephyr sailing (well, sort of!) letting me escape to the Nationals – and one of the Manly events is a much remembered family holiday. It was on the shore in Akaroa, after a lovely days sailing that I took the call from her, informing me that her breast cancer had spread to her lungs – a realisation for both of us that our life together was about to take a different path. Kim was the family grammarian, who proof read every West Wind I produced, so I will be reminded of her if ever there are apostrophes out of place in future newsletters! Kim's passing is a reminder that a healthy, active retirement is not guaranteed, so my message to fellow Zephyr sailors is to retire a little every day, or every week, perhaps with a bit of Zephyr sailing.
Rob Ebert
---
In lieu of flowers donations to Hospice Waikato would be appreciated and can be made online at www.hospicewaikato.org.nz/donate. A private family service will be held and a public service at a later date to be advised. All correspondence to the Ebert family, C/- PO Box 276, Hamilton 3240.
---
Posted: Friday 10 September 2021