FROM THE ARCHIVES: 50th Jubilee Regatta Video (2006 Nationals)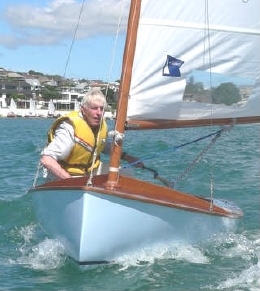 Kia ora, Zephyr sailors & friends - it's definitely sad that we can't all be in Wellington together for Nationals this week as planned, but if we can't be at a Zephyr Nationals, why not watch one?
Bill Heathwaite sent me the incredible DVD he put together for the 50th Jubilee Nationals in 2006 (80 boats!), asking if I can get it online for everyone to enjoy. The regatta video includes footage from his own documentation of the regatta alongside Martin Tasker's TV1 coverage and Tim Sneddon's radio interview with Peter Montgomery.
There's some fantastic moments with the man who started it all, Des Townson, throughout the regatta. There's some pretty funny moments when examined under the lens of time - like the excitement for three boats from Wellington Region attending and hope that "one day" there might be a fleet in the capital (now the strongest regular fleet in the country and one of the highest regions in ownership). There are familar faces - we've got Steve Pyatt (runner up) describing himself as "the new boy" and hoping to be with the class for a long time, and Glen McKenzie who won the regatta and has just re-joined the fleet this season. I remember watching the news item here as a twelve year old, thinking it all looked pretty cool (and seeing Dad on the news), leading me down the path to getting my own Zephyr a couple of years later.
A big thanks to Bill for his hpreservation of this history, and for wanting to share it with us 16 years later. Not only does it mark the history and progress of the Zephyr Class, but the core values that stay consistent that you'll recognise both then & now.
Enjoy! There are two parts - here is Part One.
-Cat Bridges
Posted: Thursday 3 February 2022