South Island Champs Report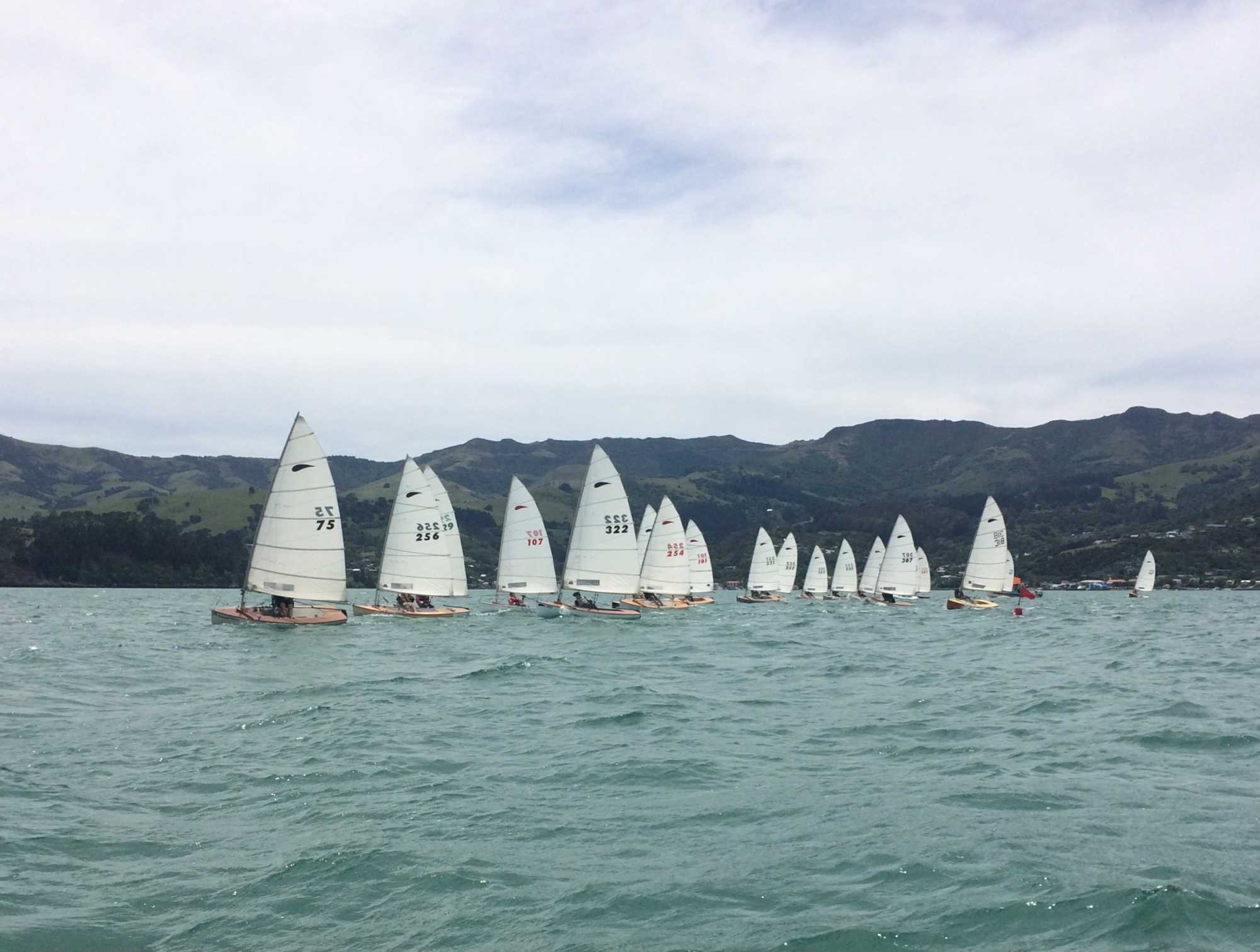 (Image: Chris Bridges (#75) leading the fleet off the start line in Akaroa)
South Island Championships had a last-minute change of venue to Akaroa this year, so first of all, thank you to those organising, and the race committee & sailors for accommodating the change at short notice! Akaroa Harbour is an excellent spot for Zephyr racing, and the weekend played out as expected with a little bit of everything (from boats drifting up the course in irons to walls of sea spray blowing down the harbour), including a great social dinner with families on shore.
The racing was close with leads changing multiple times during races and throughout the series, leaving the regatta open to be anyone's game. There was only one point difference between Dan & Hamish coming into the last race. Overall, 26-year-old Daniel Smith took out first prize, closely followed by last season's South Island Champ, Hamish Atkinson, in second, and Chris Hargreaves, who had travelled down from Wellington, in third place (overall results at the bottom of article).
The wind was incredibly shifty and challenging at times. On the last race on Saturday, the wind swung to a strong Westerly as boats were beating up to the top mark. This changed to a reach with boats planing, and a few heading back after rounding. Cat Bridges had her tiller extension tied on with a few lashings of cord and a pink hair tie after a quick repair at the bottom mark and wasn't testing its strength in the gusts, Tony Park's gooseneck broke, and a few others anticipated the Southerly coming early. Thankfully the wind died down a bit for the rest of the race, though the Southerly with thunder and lighting did come in later that evening.
It was promising to have a number of younger Zephyr sailors on the water, especially with Dan taking out the overall win and youngest member of the fleet, Dominic Pulley (17), sailing well in his new boat. We also had some recently renovated boats look pretty happy with their new lease on life!
To summarise, we have the testimony of visiting North Islander Chris Hargreaves:
"Fabulous fun regatta with a bunch of very friendly Zephyr sailors and closely contested races. Had our Zephyrs outside our bedroom windows a three-minute wheel fully rigged from the beach. You don't get better than that at a regatta. Hot shower, cold beers and food within three minutes off the water. Just absolutely fabulous. Gee these South Islanders now how to run a fabulous friendly regattas. Even the entry fee was sponsored."
The Canterbury fleet has expressed interest in hosting regular future regattas in Picton again and invite North Islanders to join us. We had a blast sailing with you all there previously and know there is some interest from Wellingtonians who are just a ferry trip away.
Thank you to Peter Withell for kindly sponsoring the regatta - your generosity was very much appreciated by all!

Posted: Thursday 10 December 2020