North Island Champs Report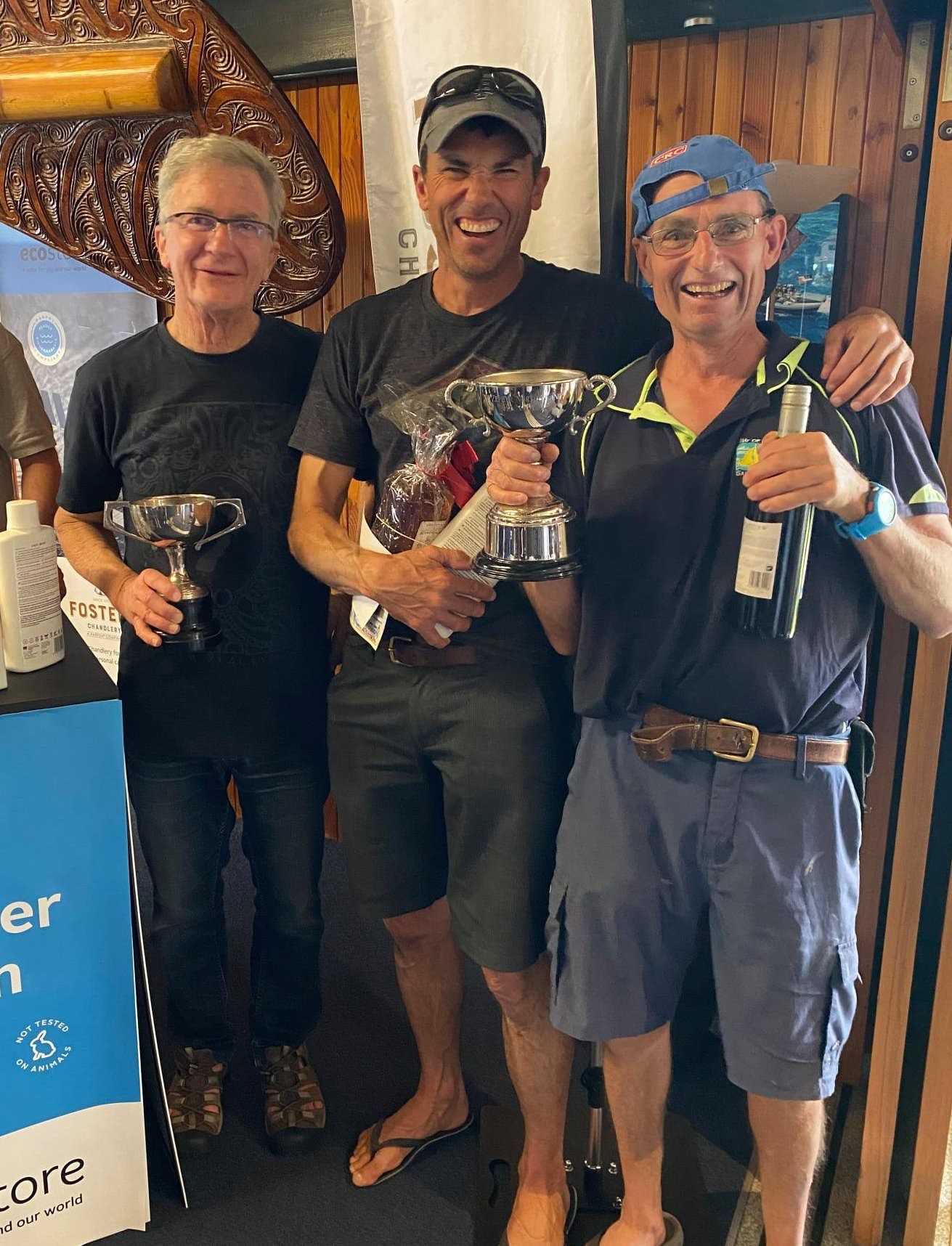 (Image: Left to right - Brian Peet, Matt Mitchell, and Dennis Conway)
Thirty-eight entries from as far apart as the Bay of Islands, Auckland, Tauranga and Wellington resulted in the largest North Island regatta for many years.
​The conditions were an interesting mix of all Napier could provide, ranging from westerly to northerly, then south-easterly, with helpful swings in between - often arriving and departing during individual races. Wind strengths over the weekend ranged from a 2-knot drifter to full on 20-25 knots. Patience and a sense of humour were must-have attributes for the event.
The first gun went to Grant Beck, followed by another in race four. Not to be outdone were two wins by newcomer to the class Mark Orams. Mark is a former Paper Tiger and Laser national champion, now attracted to geriatric, mono hull sailing. This was his first Zephyr racing after purchasing Rob Ebert's wonderfully restored #211. Regular high-performer Mike Drummond also won two races. Brian Peet scored one win in the new Mackay Boats full GRP #700.
Competition was intense, with U flag and black flag starts needed to get racing underway. By the end of day one, Mark Orams, Grant Beck, Mark Thomas and Brian Peet were all in the top mix and only by dint of consistent finishes did Brian lead the 'no-drop' scoreboard. The following day Matt Mitchell came charging through with three stellar, top four performances. By race six, Mark Orams held a slender points lead, but an upwind swing on the last beat of the last race gave Brian Peet a second placing and the regatta win.
1st​ Brian Peet​(#700) ​23 points
2nd​Matt Mitchell​(#112)​ 26 points
3rd​Mark Orams ​(#211)​ 29 points
The handicap win went to rising star Dennis Conway, sailing his recently rebuilt #220. Dennis has been steadily improving over the last 12 months and isvery competitive in his favourite conditions.
The other aspect of the regatta was the appearance of two Mackay, full GRP Zephyrs #700 and #702. Both boats arrived at the regatta fully measured and ready to go. Sadly, unavailability of masts resulted in Steve Pyatt having to sail 702 using a heavy Baverstock mast – a spar most sailors would prefer not to use.
For full results: http://www.napiersailingclub.org.nz/images/results/summerregatta/Cousr%20Inner.pdf
The event was extremely well run with efficient race management, a hallmark of the NSC's modus operandi. Over 200 boats took part in this year's Summer Regatta and given the spacious surrounds of the club environs, dozens more could've been easily accommodated. The club Commodore has offered the Zephyrs an open invitation for the 2021 event.
Posted: Thursday 3 December 2020