Zephyr National Championships 2021 - Manly Sailing Club, Auckland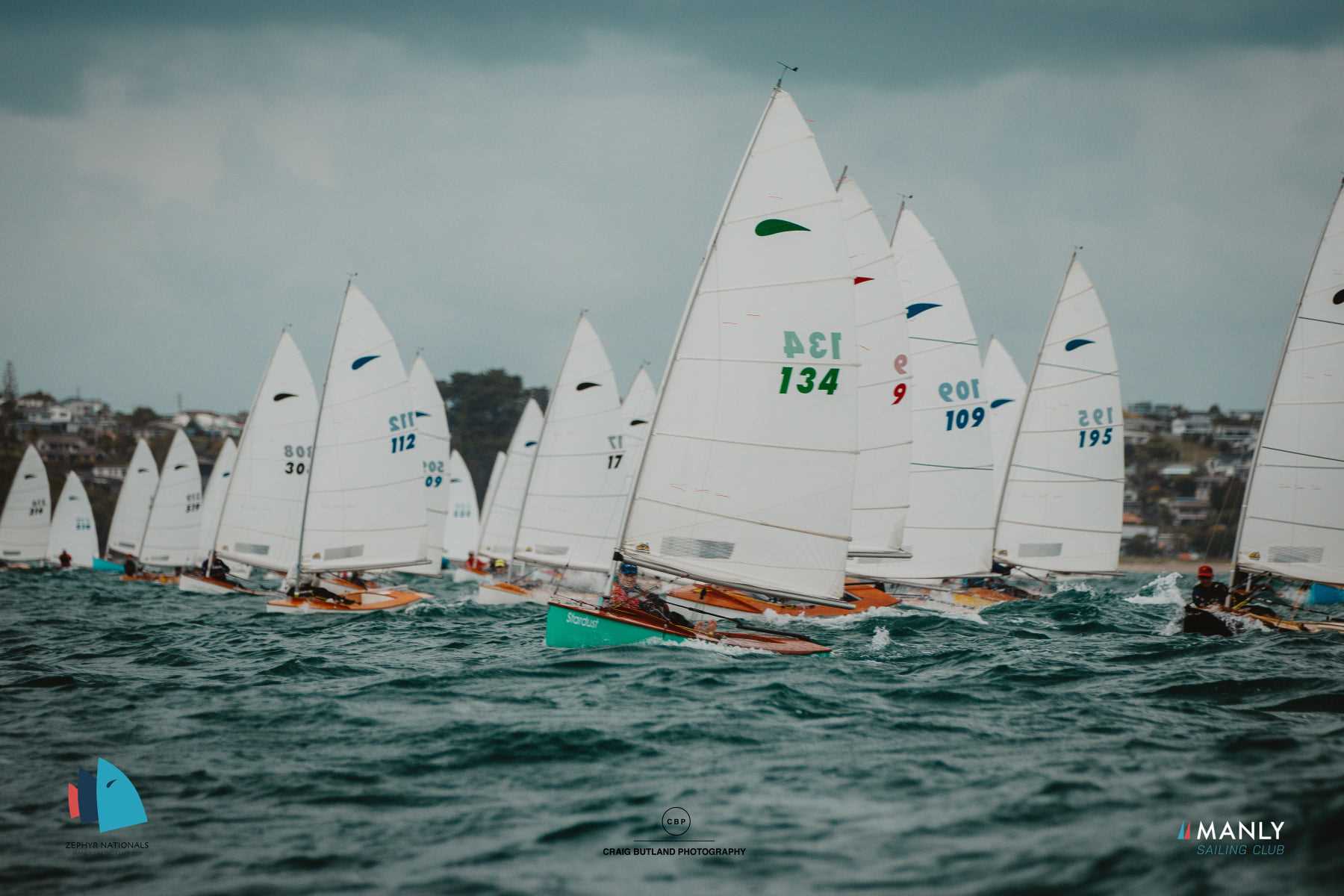 As many as 70 sailors from across Aotearoa descended on the Manly Sailing Club recently for the 65th Zephyr National Championships in a display of the continued strength of the class.
The conditions were testing for the sailors, ranging from calm seas and three knots of wind to 2m waves and 24 knots.
Rodney residents have had a long history with the Zephyr, right from designer, the late Des Townson who hailed from Mahurangi and who designed and built many of the dinghies dating back to the 1950s, to the new fibreglass versions currently being built by Mackay Boats of Silverdale.
Nationwide there are 300 of the 3.35 m wooden boats and five new fibreglass boats, with more on order.
Zephyr Owners Association president Matt Mitchell thanked all visiting entries at the prizegiving and commented on how good it was to see many youth sailors getting into the class which, until recently, seemed to be the domain of mature sailors over 50, matching the age of their boats.
Local Manly sailor Rod Dawson dominated the regatta, winning three of the six races to finish 23 points ahead of Mark Orams (Torbay Sailing Club). Murray Thom, also of Manly, was third.
"The Zephyr Nationals, with 70 entries, is New Zealand's largest senior dinghy competition by far, and the Manly Sailing Club was proud to host the regatta," Manly commodore Barry Thom said. "It was great to be able use the Manly Bowling Club function room to cater for the 150 supporters and sailors for functions held during the week, leaving the Manly Sailing Club house for the important role of managing the actual yacht races."
Next year's Zephyr national championships will be held at Worser Bay over Waitangi weekend, when it's expected another strong fleet will compete.
The Zephyr yacht has stood the test of time for 60 years due to it being a boat that is very easy to sail and a great looking yacht that owners are proud to give pride of place in their garage.
Unlike any other single-handed yachts, the Zephyr can be sailed by people weighing from 60kg-110kg and the fact it is so easy to 'depower' the single sail means it can be sailed by most in winds up to 20 knots.
The regatta was well supported by Salthouse Next Generation Boats, Boating NZ, XPL Composites.NZ, Conway Sails and Covers, C-TECH, Harken, NZSailing.com, Doyle Sails, Sir Russel Coutts, Barry Thom and the appropriately-named ZEPHYR Wines.
Results and standings from the Zephyr National Championships held at the Manly Sailing Club:
Men
1st: Rod Dawson (Manly Sailing Club) 1 1 2 1 2 (8) - 7 points
2nd: Mark Orams (Torbay Sailing Club) 4 2 1 7 16 (17) - 30 pts
3rd: Murray Thom (MSC) 6 (19) 4 8 11 5 - 34 pts
Women
1st: Amanda Hargreaves (Evans Bay Yacht and Motor Boat Club) (39) 21 20 9 7 19 - 76 pts
2nd: Polly Wright (Worser Bay Boating Club) 27 25 23 12 31 (38) - 118 pts
3rd: Penny Linton (WBBC) 62 53 (70 RET) 37 37 36 - 225 pts
Zephyr Championship Trophy – Rod Dawson (MSC)
Zephyr Championship Runner-Up - Mark Orams (TSC)
Zephyr Championship Female - Amanda Hargreaves (EBYMBC)
Zephyr Handicap Trophy - Tim Willetts (Point Chevalier Sailing Club)
Zephyr Heavyweight and Fresh Breeze - Dean Stanley (WBBC)
Zephyr Master Trophy (70+ years) - Rob Martin (Royal Akarana Yacht Club)
Zephyr Master Trophy (65–69) - Tim Snedden (RNZYS)
Zephyr Master Trophy (60-64) - Murray Thom (MSC)
Zephyr Master Trophy (50-59) - Rod Dawson (MSC)
Zephyr Master Trophy (40-49) - Cameron Dunn (Murrays Bay Sailing Club)
Zephyr Youth Trophy (under 40) – Sean Herbert (MSC)
Posted: Thursday 22 April 2021