The NI regatta at Lake Taupo was one of the better regattas for presence of reliable wind. Well reliable is a relative term when discussing yacht racing on Taupo. It was the reliable for being there, but directional and velocity stability was its usual random self. Temperatures night and day were most pleasant and it didn't rain, making for a great weekend.
Twenty three Zephyrites fronted up at the club, to be told we were the only class operating from the shore, so we had the place to ourselves as honoured guests. There was the usual Sport Boat presence and two Javelins who were sole representatives of a once very hot, highly competitive class from last century. Hold on, we're from last century, but were never hot, so maybe lukewarm is the way to survive.
The winds were mostly westerly to north west ranging from 5-15 knots with the odd squirt getting close to 20 knots. Always shifty and as someone commented, half the fleet led at some point in a race over the weekend. Like snakes and ladders, lots of passing lanes and lots of hero to zero in short order.
It was great to see some new faces in the class. Tim Willets from A Class cat fame has purchased Phil Williams #502 and dropped in after collecting the boat from Wellington. Mike Drummond came for his first ever Zephyr regatta in Clive's old #606 and proceeded to very clearly signal we are a class for the plucking. A win in the 5th race sent a clear message that we are in for a torrid time from this maestro of yachting dynamics. Can't recall a first time entrant ever winning a race in one of our major regattas.
Also present was the son of well known Chicago gangster Ma Baker. It's now been revealed her eldest son Brian was relocated to NZ to start a new life. However gangster tendencies popped to the fore on a couple of occasions – one notable event involved our former President Peter, taken out with hit man precision during a mark rounding. However it turned out the explanation was innocent – a mainsheet wrapped around Mrs Baker's son's foot prevented a seamless bear-away and the result was a tangle of the unfortunate followed by masthead rinses for both boats.
Fresh water dunking clearly has its benefits. Peter Busfield had a blinder in a race following his involuntary immersion. He jumped out of the blocks, headed for the shore where he clearly saw an unfolding lift and led to the first mark mark. Sadly he was forced to suffer a down wind rogering by Steve right towards the end of the race. However, a well deserved 2nd did wonders to his points tally.
On the theme of rinsing, our Treasurer Tony clearly had a bit of money laundering to do, so decided ZOA funds needed washing on the way to the start on day two in a 5 knot breeze. What a wonderful way to start the day's activities with an invigorating full immersion in 14 degree water. It must have worked, because he then proceeded to have his best races of the series. Might see him make this a regular occurrence.
Anyway, enough rambling from me. Racing at the front of the fleet was close with Greg Wright from Wellington first with Tauranga's Mark Thomas second, a point ahead of Steve Pyatt third. Handicap winner was Hansie Eicholz, also from Tauranga and Murray Sargission won the over 65 prize.
Taupo Sailing Club have informed us that next year the event is pencilled in for the first weekend in December. It's probably going to be necessary for the Auckland, Tauranga and Wellington groups to have a bit of a chat about options on this, because there has been previous discussions around Zephyrs taking part in the Napier small boat regatta that's also held in November. Maybe an opportunity for two 'away' regattas at this time of the year.
Brian Peet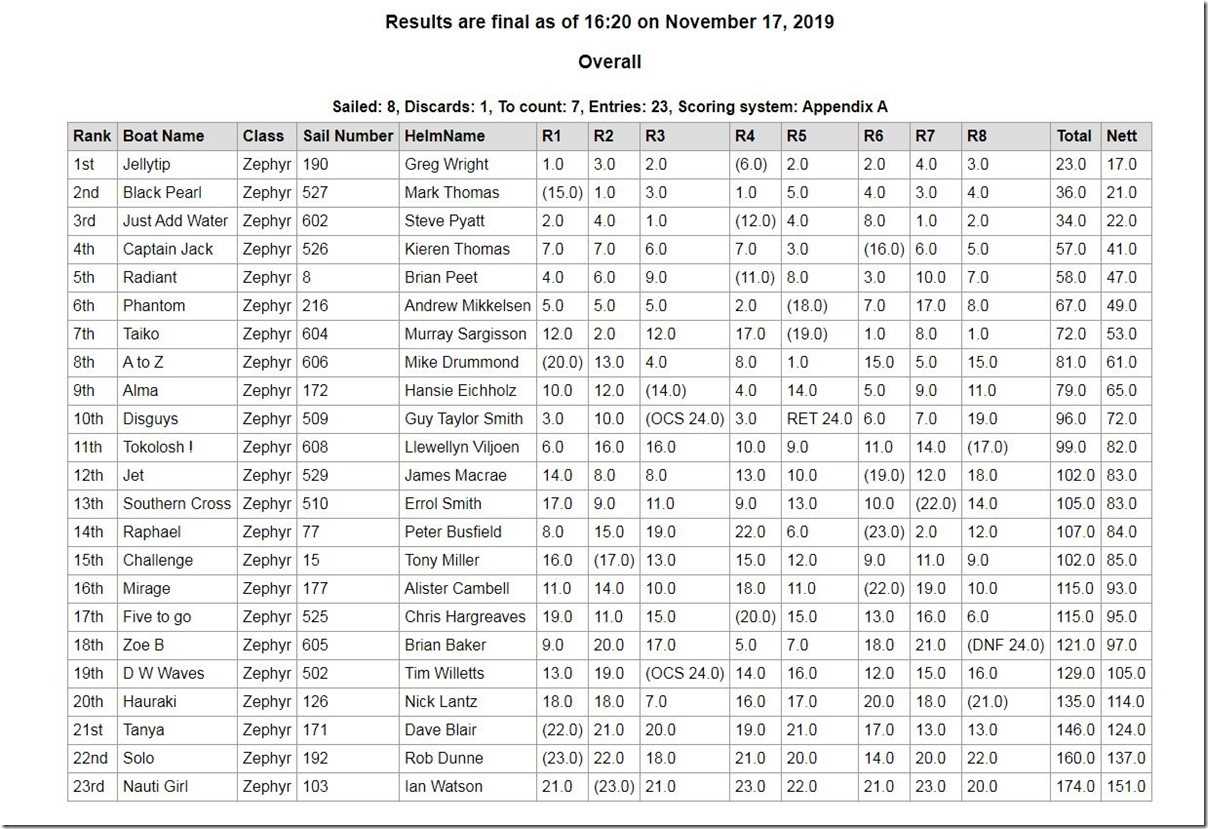 Posted: Monday 18 November 2019